SPACE
The Many Faces of

DRACULA
SPACE
Very few characters in literature or in film have captured our imaginations and put fear in our hearts in the way of Bram Stoker's Dracula. Written in 1897, Dracula is human, yet exists in a world between the living and the dead, feeding on blood to ensure his mortality.
It is said that Bram Stoker based his character on the historical medieval figure Vlad Tepes, or "Vlad the Impaler" as he was known since impalement was Vlad's preferred method of torture and execution. Others say they think Stoker used Erzsebet Bathory - The Blood Countess - as his inspiration.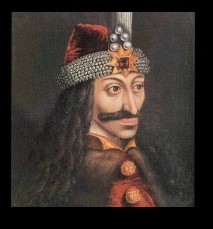 Vlad Tepes
Whatever his inspiration, Bram Stoker wrote a story that has endured in print for well over one hundred years, and for nearly that long as well on film. On the silver screen, it has taken on many guises and numerous story variations -- some paralleling Stoker's original story, and others taking great creative license to try to cash in on the popularity of the original. Some variations have done quite well while others have flopped.
Here, we will present six actors who, over the last century, have presented their renditions of Stoker's fearsome character on the silver screen. There are many more. But, I feel these are among the very best. ~ Melinda
Click on the image links below.