Display window of Marie Laveau's Voodoo House
One of the better known stories is about how Marie acquired her house on Rue St. Ann. As the story goes, a wealthy white man came to Marie early in her practice and begged her to get his son declared innocent at his upcoming trial. Some say the son had murdered a young girl, and others claim that he had raped her.
Marie was promised a house as payment if the young man won. The house was reportedly owned by the father and was the home of the father's mistress previous to the business transaction with Marie.
The night before the trial Marie put three guinea peppers in her mouth and prayed at St. Louis Cathedral. The next morning, she entered the courthouse and somehow put the peppers underneath the judge's chair. They young man was found innocent, left the courtroom with his euphoric father, and Marie was the proud owner of a pretty little house on Rue St. Ann.

Was this magic? Most doubt it. It was later discovered that Marie had approached a witness, who happened to be deathly afraid of voodoo, and threatened him if he did not testify in favor of the young man. It seems that this was Marie's main style of magic: the manipulation of those she served.
Another story surrounding the many legends of Madam Laveau regards the house Maison Blanche. Maison Blanche was supposedly a house she owned near Lake Ponchartrain that she used as a bordello. For a fee, Marie would arrange appointments for white men with mulatto or quadroon girls. It is probable that this was a tradition that originated with Marie II -- her daughter, Marie Glapion.

Marie's chief works, however, were in Black Magic, sorcery, and the paranormal. Ambitious businessmen and prominent politicians would sometimes ask her to predict their futures. For a fee, Marie could cast and remove spells. She was reputedly good with love potions and curses, too. But one thing she was particularly skilled at was obtaining secret information about prominent locals.

Marie acquired her information not so much through clairvoyance as through a spy network of servants and slaves in New Orleans who feared the Voodoo Queen. Having been a hairdresser she knew how the gentry socialengagement -- even about confidential matters. Society women would chat away with Marie the hairdresser as though she were a mere servant. In reality, these aristocrats were feeding Marie vital information which she would use later to her advantage.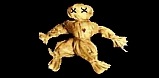 Madam Laveau had ways of acquiring new spies. A favorite method was to secretly place a Voodoo doll near the house servants' entrance of distinguished New Orleans homes. The victims, upon discovering the Voodoo doll, would be convinced they were being hexed (by some witch other than Marie), and would run to the Voodoo Queen for help.

Also referred to by many locals as the "Bosswoman", Marie would offer to dispel the doll's power if the victims would agree to spy for her. Thus, Marie could covertly gain knowledge of goings-on within the household where the victims of the Voodoo doll labored.

Over the years to follow, there are several small articles that mention Marie appearing in the New Orleans newspapers. These mostly deal with small legal battles she had with various Voodoo practitioners. And then, on June 16, 1881, the newspapers announced that Marie Laveau was dead. She would have been 87 years old.

The main mystery of Marie Laveau arises when people still claimed to be seeing her long after her reported death. The widely accepted opinion is that it was the Widow Paris that died in 1881 and her daughter Marie Glapion, a striking look alike, took over the role of Voodoo Queen. Marie II was about 50 years old when her mother died. This theory accounts for sightings all the way into the early twentieth century.
Marie Laveau's tomb in St. Louis Cemetary Number I is frequently covered with rosaries, flowers, coins, and various other offerings. Some visitors also tap three times on the tomb or mark three Xs with a piece of brick or chalk, and then ask Marie for a favor.
References:
Voodoo: Opposing Viewpoints, Don Nardo and Erik Belgum.
Fabulous New Orleans, Lyle Saxon;Voodoo In New Orleans, Robert Tallant; The French Quarter, Herbert Asbury; Gumbo Ya Ya, compiled by Lyle Saxon; Great Characters of New Orleans, Mel Leavitt; The Voodoo Queen, Robert Tallant; Black New Orleans, John Blassingame; Voodoo: Past and Present, Ron Bodin.
Return to Marie Laveau - Page One
SPACE
More Evil Women: