The Many Faces of Dracula
Bela Lugosi as Dracula
(1931)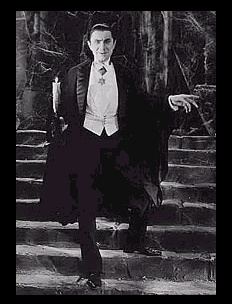 Bela Lugosi played many parts during his film career, but the part he will always be most remembered for is that of Count Dracula. It was Lugosi who popularized the slicked back hair and caped tuxedo look which added charm to Dracula's bad boy image. Of course, having a deep voice with a foreign accent which could be heard on film (as opposed to Nosferatu which was a silent film) didn't hurt either. American audiences lapped it up.
Born Be'la Ferenc Dezso Blasko on October 20, 1882, Lugos, Hungary. In 1920 he emigrated to the US and made a living as a character actor, shooting to fame when he played Count Dracula in the legendary 1927 Broadway stage adaptation of Bram Stoker's novel. It ran for three years, and was subsequently, and memorably, filmed by Tod Browning in 1931, establishing Lugosi as one of the screen's greatest personifications of pure evil.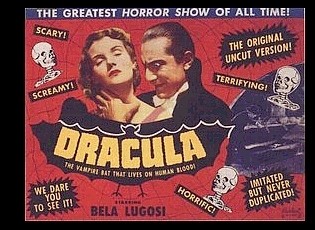 Sadly, his reputation rapidly declined, mainly because he was only too happy to accept any part (and script) handed to him, and ended up playing pathetic parodies of his greatest role, in low-grade poverty row shockers. He ended his career working for the legendary worst director of all time, Edward D.Wood Jr.
Bela's final film was Plan 9 from Outer Space. He died four days after shooting began. Edward D. Wood Jr. abandoned the project and rewrote the script to accommodate all the footage shot in a cemetery and outside Tor Johnson's house in the new production. Lugosi's part was taken over by Tom Mason, Wood's wife's chiropractor, who was significantly taller than Lugosi, and played the part with a cape covering his face.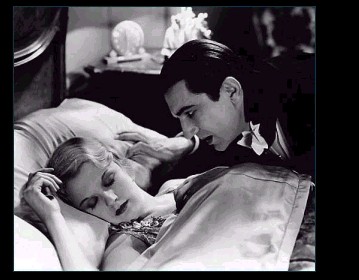 Bela died of a heart attack in Los Angeles in August of 1956 and was buried in his full Dracula regalia.

On a humorous note, according to Vincent Price, when he and Peter Lorre went to view Bela's body during Bela's funeral, Lorre, upon seeing Lugosi dressed in his famous Dracula cape, quipped, "Do you think we should drive a stake through his heart just in case?" (Neither was actually at Lugosi's funeral.)

More Faces of Dracula
Christopher Lee in "The Horror of Dracula"
Gary Oldman in "Bram Stoker's Dracula"