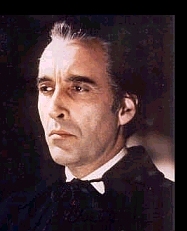 Born Christopher Frank Carandini Lee in London, England, in 1922, he starred in a variety of television and film roles throughout the 1950s but didn't reach stardom until his association with Hammer Film Productions, beginning with The Curse of Frankenstein (1957), The Horror of Dracula (1958), The Mummy (1959), and The Hound of the Baskervilles (1959).
Originally, the title of this 1958 version was Dracula. However, in the United States the title was changed to Horror of Dracula to avoid confusion with the classic 1931 version. Even twenty-seven years after the 1931 classic was released, the original Bela Lugosi version of Dracula was still being booked into theatres until the Shock Theatre package of classic Universal horror films was released to television.
His role in Horror of Dracula was so popular, it was perpetuated in a variety of Hammer sequels throughout the 1960s and into the early 1970s.
These films were so successful that Lee decided in the late 1970s to move to Hollywood, where he continued acting in a number of films but were lesser known. He eventually moved back to England.
In the early 2000s, Lee's career was revitalized by his appearances in two blockbuster film franchises: The Lord of the Rings (as Saruman the White) and Star Wars (as Count Dooku).

But, none of these roles has eclipsed his role as Count Dracula. Lee's passionately suave style as the mysterious vampire allowed The Horror of Dracula to find its own place in cinematic history.
More Faces of Dracula
Gary Oldman in "Bram Stoker's Dracula"