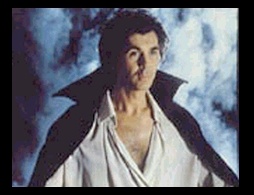 This particular film version of Dracula doesn't really parallel Stoker's novel. Some elements are retained, but characters are switched around or deleted all together. Arthur and Quincey are nowhere to be seen. Dr. Seward is Lucy's father. And Van Helsing is Mina's father. But with all the confusion, still, many Dracula fans claim Langella's charisma is the saving grace of this particular version, as one viewer described his performance as "sooooooo SEXY".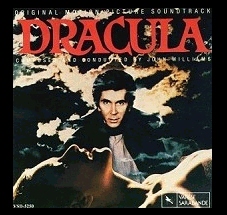 The cast has an added lift with Laurence Olivier as Van Helsing. This cersion of Dracula makes use of the wide Panavision frame in artistic fashion, projecting a landscape of Gothic architecture. There is much visual appeal.
Born January 1, 1940 in Bayonne, New Jersey, Frank Langella won acclaim on the New York stage in "Seascape" and followed it up with the title role in the Edward Gorey production of "Dracula." This is when he garnered attention to be cast in the leading role in the 1979 film production and became an international star. He has since done other film work but is said to prefer the theatre.
More Faces of Dracula
Christopher Lee in "The Horror of Dracula"
Gary Oldman in "Bram Stoker's Dracula"