The Many Faces of Dracula
Gary Oldman in Bram Stoker's Dracula
(1992)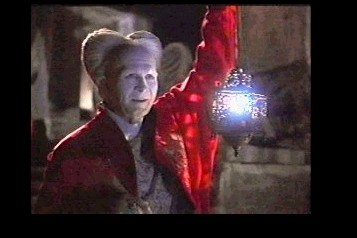 Gary Oldman's portrayal of Dracula is among the more stylish of all the various cinematic renditions of Stoker's novel. Displaying great versatility, Oldman goes from being a bloody, yet comedic razor-licking ghoul when Keanu Reeves (as Jonathon Harker) accidently cuts himself while shaving, to a fearsome satanic monster breaking free from his crate of putrid earth aboard ship, to a dapper man-about-town as he follows his Mina on the city streets -- meeting her...charming her... seducing her completely.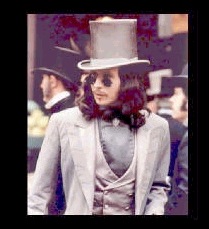 The film is among Francis Ford Coppola's best, making use of otherworldly visuals and camera techniques -- some, tried and true, and some new and innovative at the time which enables the viewer to view the story as a part of it, rather than from outside of it.
There is a smooth change of momentum that seems to flow flawlessly such as the the transitioning between the very gruesome staking of Lucy's heart, to Van Helsing, while dining with Mina and Harker, casually -- almost comedically -- relaying the details of her demise while cutting into a rather large roast, thanks to the brilliance of Anthony Hopkins.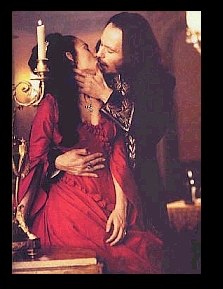 Born in London, England in 1958, Leonard Gary Oldman won a scholarship to the Rose Bruford Drama College in Great Britain, where he received a BA in Theatre Arts in 1979. He then studied with the Greenwich Young People's Theatre and went on to appear in a number of plays throughout the early 80s.
His command of various dialects and accents along with his ability to transform himself physically has allowed him to play a wide range of characters and a number of historical figures such as Lee Harvey Oswald in JFK (1991) and Ludwig Van Beethoven - Immortal Beloved (1994).
It is yet to be determined for which role Oldman will be most remembered. Anthony Hopkins fans will remember his brilliant portrayal of Mason Verger in Hannibal. But, that is just one among many. His chamelion-like portrayal of Dracula, however, will certainly never be forgotten.
More Faces of Dracula
Christopher Lee in "The Horror of Dracula"