The Many Faces of Dracula
Willem Dafoe in
The Shadow of the Vampire
(2000)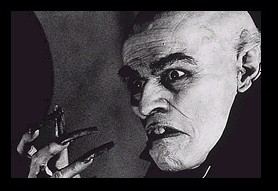 Shadow of the Vampire is a film about the making of the 1922 German classic, Nosferatu. John Malkovich plays the famed director of Nosferatu, FW Murnau, while Willem Dafoe portrays Max Schreck in his role as the vampire. Dafoe, coincidentally, is the only actor to ever be nominated for an Oscar for playing a vampire.
According to rumor (some say legend) the production of Nosferatu was fraught with many strange occurrences - some crew members disappeared and some died. Shadow of the Vampire focuses on the difficult relationship between Murnau, the director, and Schreck, the lead actor.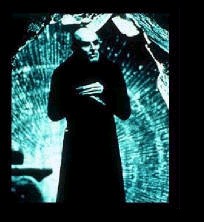 Max Schreck's performance in the classic film Nosferatu has become legendary. The theory of the day was that the reason Schreck's performance was so good was because he actually was a vampire. And that's the premise of this film, which features director F.W. Murnau so obsessed with creating the perfect vampire film that he seeks out an actual member of the undead to play the title role.

Enter Willem Dafoe who plays Schreck to the hilt. He takes an already disturbing character and creates new depth of horror by making the actor who portrays him to be the real thing.


Shadow of the Vampire suggests that Nosferatu may have actually been one of the earliest "snuff" films - with an actress actually dying while Schreck, in his role as Graf Orlok, feeds on her - the whole time while the camera is rolling.
At the same time, however, we are shown FW Murnau's struggle to sort through the haze of film-making to determine what could be a startling reality.


Willem Dafoe was born in July of 1955 in Wisconsin and is is one of the founding members of The Wooster Group, the New York based experimental theatre collective. He has a most impressive filmography.

His portrayal of Max Schreck is stunning. And while Shadow of the Vampire may be a bit of fiction "based on a true story", Dafoe's performance convinces us that the fiction just may be the true story.
More Faces of Dracula
Christopher Lee in "The Horror of Dracula"