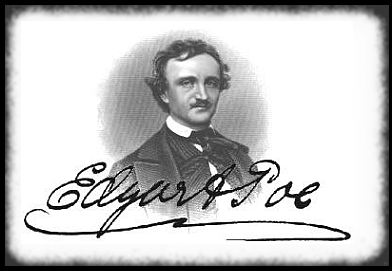 Master Poet and Story Teller Extraordinaire, Edgar Allan Poe was born on January 19, 1809 in Boston, Massachusetts, to parents who were itinerant actors. His father David Poe Jr. died probably in 1810 and his mother Elizabeth Hopkins Poe in 1811. Edgar was taken into the home of a Richmond merchant John Allan and brought up partly in England (1815-20), where he attended Manor School at Stoke Newington. Never legally adopted, Poe took Allan's name for his middle name.
Poe attended the University of Virginia (1826), but was expelled for not paying his gambling debts. This led to a quarrel with Allan, who later disowned him. In 1827 Poe joined the U.S. Army as a common soldier under assumed name and age. In 1830 Poe entered West Point and was dishonorably discharged next year, for intentional neglect of his duties.
Little is known about his life in this time, but in 1833 he lived in Baltimore with his father's sister. After winning a prize of $50 for the short story "MS Found in a Bottle," he started a career as a staff member of various magazines, among others the Southern Literary Messenger in Richmond (1835-37), Burton's Gentleman's Magazine in Philadelphia (1839-40), and Graham's Magazine (1842-43). During these years he wrote some of his best-known stories.
In 1836 Poe married his 13-year-old cousin Virginia Clemm, born August 15, 1822. She was said to have large black eyes, and a pearly whiteness of complexion, which was a "perfect pallor". Her pale face, her brilliant eyes, and her raven hair gave her an unearthly look. It was also said that "one felt that she was almost a disrobed spirit."

From all accounts Poe always treated his wife kindly and bought her a piano so she could pursue her love of music. He kept her in relative comfort. It is believed that she loved him very much.

She burst a blood vessel in 1842, and remained a virtual invalid until her death from tuberculosis five years later. After the death of his wife, Poe began to lose his struggle with drinking and drugs. He addressed the famous poem "Annabel Lee" (1849) to her.
Poe's first collection, Tales of the Grotesque and Arabesque, appeared in 1840. It contained one of his most famous works, "The Fall of the House of Usher." During the early 1840s Poe's best-selling work was The Conchologist's First Book (1839). The dark poem of lost love, "The Raven," brought Poe national fame, when it appeared in 1845. The Murders in the Rue Morgue(1841) and The Purloined Letter are among Poe's most famous detective stories. Poe was also one of the most prolific literary journalists in American history.

Poe suffered from bouts of depression and madness, and he attempted suicide in 1848. In September the following year he disappeared for three days after a drink at a birthday party and on his way to visit his new fiancée in Richmond. He turned up in a delirious condition in Baltimore gutter and died on October 7, 1849.

...or so it has been said.


Mystery Surrounding Poe's Death
Days after his death he was buried in an unmarked grave in a

Baltimore

cemetery before many of his friends and family had even heard he was dead.

Years later, his cousin Neilson ordered a tombstone for Poe's grave, and an elaborate marker was created out of marble. Plans were made to move the gravestone to the Baltimore cemetery. But misfortune followed Poe even after his death. The tombstone was destroyed when a train jumped its tracks and demolished a number of tombstones, Poe's included. It would not be until 1875 that a marker would be placed over Poe's remains, and later the remains of his wife Virginia and Maria Clemm were added to the site.
Poe's grave is also the location for yet another mystery. On the night of Poe's birthday in 1949, a man entered the cemetery in the dark of night and left three roses and a half-full bottle of cognac on Poe's tombstone and then vanished.

Many assumed that the three roses were in honor of Edgar, Virginia, and Maria but the cognac was a mystery, and the Baltimore Poe Society has noted "the significance of cognac is uncertain as it does not feature in Poe's works as would, for example, amontillado."
But 1949 was just the beginning: every year on the night of January 19th, a hooded man has entered the cemetery in the dead of night and has left the same tribute of roses and cognac at Poe's grave. Poe enthusiasts have gathered to watch the mysterious visitor, but nobody has ever tried to communicate with the cloaked figure or to learn his identity. On January 19, 1993, along with the roses and liquor, the man left a note saying "the torch will be passed," and it is believed that the first man passed the tradition onto another before his death, because the annual visitations continue.

Scholars, historians, biographers, and the medical community continue to present theories about what happened to Poe from September 28 to October 3, 1849, but nobody has conclusively proven whether one of America's premier writers died by his own foolish behavior, by an illness, by a gang of political hooligans, or at the hands of a cold-blooded killer.

The mystery continues. Poe would be delighted.

From Notorious Murders and Celebrity Crimes;
The Literature Network.

_______________________________


Below are a few links to some of Poe's work: His deliciously wicked short story, The Tell-Tale Heart, and two poems -- The Raven, and a tribute to his wife, Virginia, Annabel Lee.