Originally, a pagan festival of the dead?
Discover how this ritualistic holiday has survived to the present in popular culture as Halloween, a night of trick-or-treating by children and others dressed in costumes of fantasy and the supernatural.
Halloween is one of the oldest holidays with origins going back thousands of years. The holiday we know as Halloween has had many influences from many cultures over the centuries. From the Roman's Pomona Day, to the Celtic festival of Samhain, to the Christian holidays of All Saints and All Souls Days.

Halloween is celebrated annually. But just how and when did this peculiar custom originate? Is it, as some claim, a kind of demon worship? Or is it just a harmless vestige of some ancient pagan ritual?

The word itself, "Halloween," actually has its origins in the Catholic Church. It comes from a contracted corruption of All Hallows Eve. November 1, "All Hollows Day" or "All Saints Day", is a Catholic day of observance in honor of saints. But, in the 5th century BC, in Celtic Ireland, summer officially ended on October 31. The holiday was called Samhain (sow-en), the Celtic New year.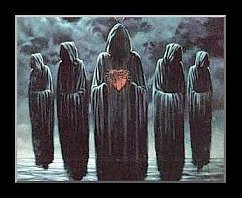 One story says that, on that day, the disembodied spirits of all those who had died throughout the preceding year would come back in search of living bodies to possess for the next year. It was believed to be their only hope for the afterlife, (Panati). The Celts believed all laws of space and time were suspended during this time, allowing the spirit world to intermingle with the living, (Gahagan).

Naturally, the still-living did not want to be possessed. So on the night of October 31, villagers would extinguish the fires in their homes, to make them cold and undesirable. They would then dress up in all manner of ghoulish costumes and noisily paraded around the neighborhood, being as destructive as possible in order to frighten away spirits looking for bodies to possess, (Panati).

Probably a better explanation of why the Celts extinguished their fires was not to discourage spirit possession, but so that all the Celtic tribes could relight their fires from a common source.
Continue to Page Two of A History Of Halloween